LIFE THEATER
o-tone music/edel:kultur
A brilliant album! Franz von Chossy has developed his own unique sound by merging his classical and jazz background at a degree of perfection.
(Angelique van Os, Jazzism *****)
Franz von Chossy is dancing on the edges of stylistic perfection
(Süddeutsche Zeitung)
A masterpiece! Music as rich as life itself.
(Jazzenzo)
Against fashion, von Chossy not only touches on his ideas, but works them out completely. He quietly and carefully builds up the nine compositions, operates as a goldsmith, filing and sharpening until the desired shimmer appears.
(Mischa Andriessen, De Trouw ****)

Franz von Chossy - Piano
Clemens van der Feen - Bass
Kristijan Krajncan - Drums, Cello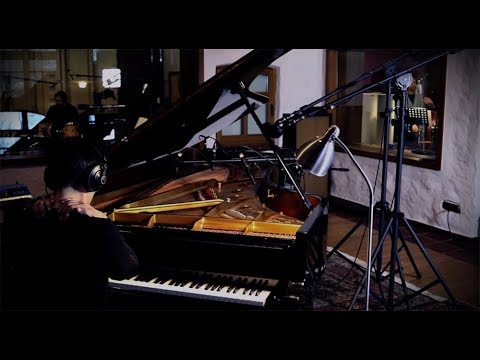 watch Anima's Beast - Recording Session
Tim Sprangers, Dutch Journalist, about "Life Theater"

Franz manages in a clever way to transfer the musical possibilities of the quintet to the trio. More than once, you think that you are listening to a quartet, quintet, perhaps even a sextet. There are few composers who play so cleverly with sounds and are able to use the qualities of the instrumentalists, including themselves, so well. Even more than ever, Franz's classical background, as well as many encounters with various musical cultures, reinforces the great effect of his music. Life Theater is a soundtrack to life, in which the different pieces represent life phases. Life Theater feels like an exhilarating journey, where you see all kind of things and meet all kind of people in order to return home in a cheerful and fresh way.

Franz von Chossy Quintet
WHEN THE WORLD COMES HOME
Jazz Sick Records/Esc Records/in-akustik
"A superb mix of musical genres ranging from modern classical music to jazz which at times surprises with a tiny note of Eastern European folklore."
(German Newspaper, Der Westen)
"Hauntingly beautiful"
(Bruce Lindsay, AllaboutJazz)
"The Franz von Chossy Quintet belongs to the most fascinating and entertaining bands of the Netherlands."
(Tim Sprangers, Jazzenzo)
Franz von Chossy - Piano
Jeffrey Bruinsma - Violin
Alex Simu - Clarinet
Jörg Brinkmann - Cello
Yonga Sun - Drums

How would the expulsion from the Garden of Eden sound?
In 2012, the organisers of Muziek Biennale Niederrhein commissioned pianist Franz von Chossy to transform the biblical story into music. To accomplish this, Von Chossy turned his award winning trio, tested at many festivals (North Sea Jazz Festival, International Jazz Festival Melbourne, JVC Jazz Festival Paris to mention only a few), into a quintet with an unorthodox line-up.
"When the World Comes Home" is a suite in nine parts as well as the title of the quintet's first album. The complexity of the music becomes only gradually obvious. The lightest melodies are barely whispered and the warm, compact sound produces an abundance of images in the mind. The music is lyrical and intense and invites the listener to make associations.
It is clear from this suite that Franz von Chossy, born in 1979 in Munich and resident of Amsterdam since his graduation from university, not only studied piano at the Manhattan School of Music in New York but also took classes in the composition of film music.
The quintet's concept album was developed in close collaboration with the Dutch poet Abra Bertman, who wrote a poem for the the title track and gave names to most parts of the suite.
So how does the expulsion from the garden of Eden actually sound?
The music unites harmony, simplicity and balance while confronting the listener with a dark side full of dissonance, fierceness and heterogeneity. The suite reveals the complex range of human emotions by translating them into a sound that is both classical and extremely modern.The style is a splendid mix of classical music, pop and plenty of jazz which is "enjoyably natural, entertaining and even thrilling" (Saarbruecker Zeitung, 07/2012).
The quintet's line-up was of great importance for the transformation of von Chossy's idea into music.
Clarinetist Alex Simu, violinist Jeffrey Bruinsma, cello player Joerg Brinkmann and drummer Yonga Sun are all musicians who enjoy switching between different styles. And though the music was written out in detail, it still leaves enough room for these excellent musicians to follow their own creativity. Together, they create "a sound almost like chamber music" which " is lifted into a another sphere" by Franz von Chossy's piano playing and Yonga Sun's drumming, which occasionally breaks through the delicate melody to add something earthy and unexpected to the music (Concerto 06/2012).